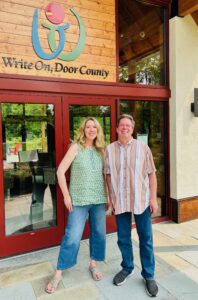 Until this summer, I had never been on a writing residency, and I wholeheartedly recommend it. In July, Write On, Door County welcomed me to its 59 acre rural sanctuary on the Wisconsin peninsula, opening the doors of its residency house with an invitation to devote my time exclusively to writing.
Who wouldn't love to spark their creativity by walking the trails behind the Writing Center? Or, unbothered by chores and errands and everyday busyness, luxuriate in story-dreaming at the beach at the end of the road? Or visit the Coop (that's the chicken-coop-converted-to-tiny-writing-studio of celebrated author Norb Blei, no less) for inspiration?
However lovely the surroundings, what meant more to me was something less tangible. Writers often struggle to keep going, to balance their creative endeavors with the other obligations of life. Here, my work was valued and prioritized. What's most important, I was being told, is  your creativity, your storytelling, your writing. Don't worry about anything else.  That external validation, for me, was priceless.
The second part of my stay was much more raucous. Take an enthusiastic bunch of third – fifth graders, give them story prompts and games, plenty of encouragement, plus time to write and wonderful things happen!
These youngsters told stories about baby avocados, family curses, hidden secrets, missing siblings, families torn apart by war, dogs on the hunt for bacon, and ghosts plus much more. They each gathered their week's creativity into a Big Book of Stories and presented them, fearlessly and with humor, to their family and friends on the final day.
Now back in Illinois, I am home feeling refreshed with a stronger connection to my writerly self, a completed first draft of my manuscript, and many happy memories. Thank you Write On, Door County.