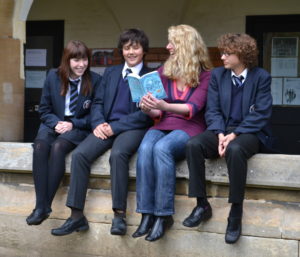 "Up-beat, engaging and challenging for our pupils — this is a writer we hope to use again." Paul R. Rees, teacher.
I love sharing my passion for stories and the creative process and have spoken to audiences, large and small. My workshops listed below have proved popular, although I am happy to tailor visits to curricular requirements, grade level, or specific needs.
Programs
To read some of the work generated in my workshops, please check out the Student Gallery.  Testimonials for my presentations and workshops are available here . Please drop me a line if you are interested in discussing any of these options or would like to book a workshop. I'd love to hear from you.
---
ONLINE OFFERINGS
Zooming Story Shorts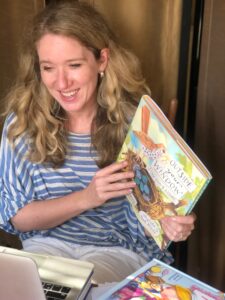 A story a day keeps the mind at play! Join me for a daily burst of creativity and exercise your imagination and critical thinking skills. Sessions are short and concentrated. Using writing prompts and applying techniques used by professional authors, we will create a new story idea each day and share it with our fellow writers to develop awareness of audience.
Suitable for Grade 5 and older. Program runs for forty minutes on five consecutive days
Any Workshop Online
Other than the Story Explorer class, all of my other classes can be adapted to online learning.
---
A LA CARTE MENU OF INDIVIDUAL WORKSHOPS
I have often tailored workshops and presentations to individual requirements and am very happy to chat about putting together a custom program. Here are some popular workshops that may inspire you or be of interest. These sessions are suitable for Grade 4 and older and run for an hour and fifteen minutes.
Faces (an exercise in character development)
As Stephen King said, "Writing is at its best — always always always — when it is a kind of inspired play for the writer." 'Faces' is a story-game for students as they work collectively and individually to create a cast of new fictional characters. This exercise helps young storytellers to develop their communication and imaginative skills with like-minded students. They will also learn new craft techniques and are coached towards continuing and developing their own stories.
How To Find A Story Anywhere
One of the first questions an author is asked is: "Where do you get the ideas for your stories?" In this workshop, using a mixture of playful writing prompts, techniques used by professional authors, illustrative literary excerpts, and story craft principles, students can develop their creativity in an experimental and supportive environment.
Monsters
There is a monster that only YOU know. Not a creature, like King Kong or Godzilla, but a secret and personal monster. In this workshop, students will discover what form theirs takes. As well as having fun in creating larger-than-life characters to populate their stories, the exercises used in 'Monsters' encourage writers to heighten their language, see the world in an original way, and learn more about metaphor. This class is based on John Schultz's Story Workshop® method.
The Stories Within
It has been said that at the heart of science is fact but at the heart of art is feeling. If writers are able to tap into their observations, reactions, and passions in life, they can uncover a powerful source of storytelling treasures. In this workshop, we work to connect with the emotional heart of an experience and breathe life into it so that it grows into a new and unique story.
---
STORY EXPLORERS
In this class, prepare to roll up your sleeves and explore stories from all sorts of angles. We read picture books. We tell stories, orally and on paper using pictures and words. We investigate themes, ideas and inspiration from our readings with interactive exercises, games, art, craft, and play. And we have fun. Lots of fun.
Suitable for Grades 1-2 in person learning. Program runs for four sessions of one hour and fifteen minutes.
---
STORY-BUILDER WORKSHOP SERIES
Are you an enthusiastic, budding writer? Come along to the Story-Builder Workshop Series and flex your creativity! Learn how to create gripping stories and discover memorable characters.  Hone your story-telling craft and learn effective writing tips. Play is also an important part of the creative process and sessions are also structured so that we have fun. Sessions include:
The Big Story Idea – Brainstorming inventive stories
Pleased To Meet You! – Using engaging exercises to meet new and memorable characters
Monsters – Delicious antagonists are fun to write
World-Building – Give authority to your story with a unique, sensory setting
Causing Trouble – 'Happy Ever Afters' belong at the end of a story. Find out how to create a great hook and gripping stories with conflict.
Suitable for Grade 5 and older. Program includes five sessions of one hour and fifteen minutes each for in person meetings, hour long sessions for online learning.
---
WRITING CITY – AN ENRICHING LITERARY EXPERIENCE
Maya Angelou said, "There is no greater agony than bearing an untold story inside you." I created this eight session class to help young storytellers develop their reading and writing skills by immersing them in the area of language arts with like-minded students. Using a mixture of playful writing games, illustrative literary excerpts, and story craft principles, students can develop their creativity in an experimental and supportive environment.
Each session delves into a different aspect of storytelling, building from an understanding of the basics  to more niche areas, such as free verse, dreams, folktales, and a novelist's approach. The purpose of this experience is to tap into and blend critical and creative literary skills in an interactive manner. Students will receive feedback on specific areas for future focus during the course of the class.
Suitable for Grade 5 and older. Program includes five sessions of one hour and fifteen minutes each for in person meetings, hour long sessions for online learning.
---
STORYTELLING IN WORD AND IMAGE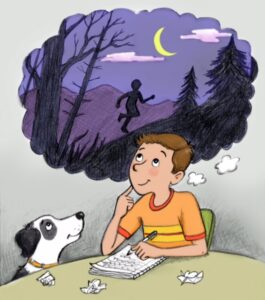 Did you know that many famous authors create their own illustrations to help them develop their story worlds? Would you like to try?
In this unique class, I partner with a professional  illustrator so that students can explore their stories in both word and image. By the end of the class, they will have had the opportunity to create a short story and illustrate a scene from it. 
Suitable for Grade 4 and older. The program runs for three sessions, and each session includes two fifty minute classes, one with Sarah Hammond and one with the professional illustrator with a ten minute passing period.
---
WHAT IS IT LIKE TO BE AN AUTHOR?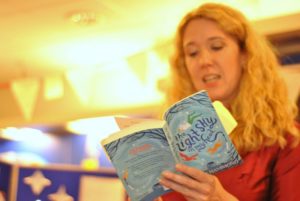 Here's where you get the lowdown on the writer's life. Where did my story ideas come from? What is in my Bag of Writing Tips? What is it like to be an author? What are the best bits and the hard parts? I talk about my journey to being a writer, about perseverance and revision, and also about following your dream.
This program can be used for Grades 2 and older, the content and timing tailored to the audience. Standard length of presentation is forty-five minutes.
---
FOR ADULTS AND EDUCATORS
Your Inner Child, an exercise in narrative distance
An excellent way to tap into your creativity, imagination and passion, is to tap into your inner child. This applies especially when writing for young people but can help in all storytelling. In this workshop, we use memories and experiences as a jumping off point for new stories to emerge. All are welcome; we all have a story to tell.
How to Foster Creativity in Young Storytellers
Are you looking for new approaches to promote creative thinking and storytelling in your upper elementary / middle school classroom? A great way to inspire students is to explore strategies used and suggested by professional authors.
I have designed a presentation to discuss the structure of a fiction writing session and give ten tips and tricks to boost creativity in students. Topics covered will include: ways to spark imagination, how to deepen story craft techniques, and a discussion of writerly processes to improve conditions when working with the imagination. There will also be an opportunity for a Q&A. Attendees will leave with practical resources to help heir pupils' stories to soar.
---
BONUS COMPETITIONS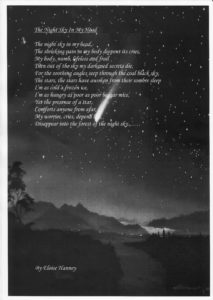 Many schools take part in follow-up competitions after my visits. This is a good incentive for students to finish stories and to celebrate the winning entries that are 'published' on my website. Click here to see examples.