SCBWI Near West Suburban Network
As a network representative for the Society of Children's Book Writers and Illustrators (SCBWI) in Illinois, I run an ongoing program of events for writers and illustrators of children's books for the Near West Suburban Networks. Events are free and open to members and not-yet-members. All are welcome.  To see the upcoming programming in my network and also the other wonderful network offerings across Illinois, please see the SCBWI IL Networks page.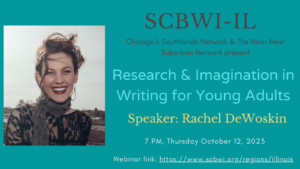 I'm thrilled to be co-hosting  this online event, RESEARCH & IMAGINATION IN WRITING FOR YOUNG ADULTS, with the Chicago Southland's Network on Thursday October 12 at 7pm. Our presenter, Rachel DeWoskin, is the award-winning author of five novels, including the Gold Medal recipient of the YA Sydney Taylor Book Award and the National Jewish Book Award for SOMEDAY WE WILL FLY (Penguin Random House). She is also a poet, essayist, and Associate Professor of Practice in the Arts and UChicago. See Rachel's website to find out more. To join the event on 10/12, click here. 
Prairie Writer's & Illustrator's Day 2023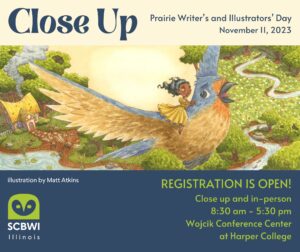 It's been fun to be on the organizing committee for this event. Attendees are in for a treat and registration is open!
Join us on November 11, 2023 – 8:30 am – 5:30 pm at the Wojcik Conference Center at Harper College in Palatine, IL for a full day, in-person conference for writers, illustrators and translators of children's literature.
2023 CLOSE UP image by member Matt Atkins
creative writing workshops
I run a series of classes, both online and in person, including:
Storytelling in Word and Image (Grades 4 +)
Story Builder Workshop Series (Grades 4+),
Writing City: An Enriching Literary Experience (Grades 5 +),
Story Explorers (Grades 1-2), and
Zoom Story Shorts (an online class that promotes a daily short burst of creativity).