Writing residency
July 3 – 9, 2023: I have a writing residency on the inspiring 59 acre campus in the middle of the Door County peninsula at Write On, Door County, Wisconsin.
KIDS WOW! GRADES 3 – 5 SUMMER CAMP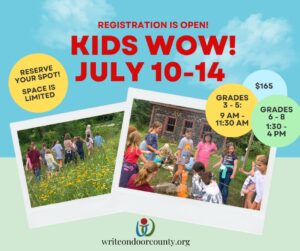 July 10-14, 2023: Are you an enthusiastic, budding writer in grades 3 – 5? Could you be the next Jason Reynolds or J.K. Rowling? Come along to flex your creativity with me and create your own Big Book of Stories at Write On, Door County. We will learn how to create gripping plots and discover memorable characters by playing games, reading excerpts, and experimenting with a variety of storytelling exercises. As well as learning effective writing tips, there will be the opportunity to express yourself through illustration and crafts and, most importantly, have lots of fun along the way! If you would like to learn more, click here.
SCBWI Oak Park and Near West Suburban Network
As a network representative for the Society of Children's Book Writers and Illustrators (SCBWI) in Illinois, I run an ongoing program of events for writers and illustrators of children's books for the Oak Park and Near West Suburban Networks. Events are free and open to members and not-yet-members. All are welcome.  To see the upcoming programming in my network and also the other wonderful network offerings across Illinois, please see the SCBWI IL Networks page.
creative writing workshops
I run a series of classes, both online and in person, including:
Storytelling in Word and Image (Grades 4 +)
Story Builder Workshop Series (Grades 4+),
Writing City: An Enriching Literary Experience (Grades 5 +),
Story Explorers (Grades 1-2), and
Zoom Story Shorts (an online class that promotes a daily short burst of creativity).