Shortlisted for the Calderdale Children's Book of the Year Award, the Leeds Book Award (14-16 category), the James Reckitt Hull Children's Book Award and the Angus Book Award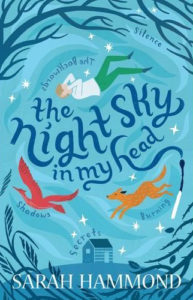 Step backwards. Witness the murder. Find the truth.
Mikey Baxter isn't like other fourteen year old boys. Not since the accident.
The world sees him as damaged. But Mikey has a remarkable gift: the ability to go backwards in time and see things that hide in the shadows.
Now he must uncover the terrifying truth behind his dad's disappearance. Before the past starts to repeat itself…
"It's a compassionate story, gripping as well as worthy." London Evening Standard
"The plot is gripping from the outset and maintains tension to the end. This is a terrific debut novel." The Bookseller
"This is a stunning debut… The Night Sky in My Head is a novel full of light and dark, magic and truth. It will stay with you long after you have read the last page." Lovereading4kids.co.uk
Find out more about the book:
Book club questions
Websites relating to issues in The Night Sky
Q&A
Blog Tour
Reviews and Quotes about The Night Sky
Buy my book by clicking here (free international shipping)