Where do your ideas come from?
There's something rather magical about the moment you think of a story idea. It's often unexpected. I think that your experiences and thoughts and observations of life, filtered through your personality and your brain, swirl around and when you begin to write a story they appear. Often ideas arise when I am out and about – often in nature -and not consciously thinking about stories at all.
When did you realise you wanted to be a writer?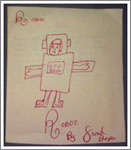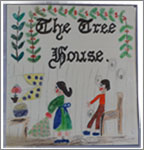 I've always loved stories and books. One of my earliest memories is being taught to read by my mother. As a toddler, I wore out some of my favourite books. My grandmother kept some of the stories that I wrote when I was a child (here are two photos of the rather dodgy covers for books I put together called The Tree House and Robin Robot).  I wrote in my spare time but it was hard to get lost in an imaginative world as I had so many other things to do. One day, I decided to do an MA in Writing for Young People to devote lots of time to writing so that I could do it properly. That's when I wrote my first teen novel.
What are your favourite books?
I love many books. One of my favourites as a child was the Chronicles of Narnia by C S Lewis, and still is. I admire so many writers for young people such as Michelle Paver, Philip Pullman, Philip Reeve, Meg Rosoff, Tim Bowler, Julia Green, Mal Peet, Jennifer Donnelly, Roald Dahl, Julie Hearn, Geraldine McCoughrean, Frank Cottrell Boyce, David Almond, Patrick Ness and Siobhan Dowd. I also love many writers for 'grown ups' including modern day writers like Emma Donoghue, Hilary Mantel and Angela Carter, and classics by authors like Charles Dickens, the Brontes, Thomas Hardy and Jane Austen. I am often drawn to books about other cultures by writers such as Primo Levi, Tove Jansson, Harper Lee, Isabelle Allende, Barbara Kingsolver and Ben Okri.