"…an incredibly accurate book about how children play – initially alone and then together, learning to share…" Being Mrs C blog review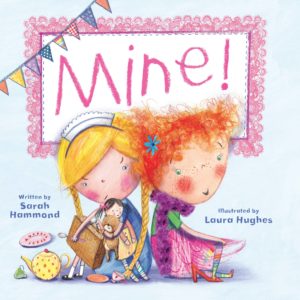 Today, Kitty is a café lady. There is tea for Teddy in the tall cup, cakes for Pansy on the pink plate, biscuits for Bingo in the brown bowl…
Kitty likes things just so in her café. But then Lea arrives and everything goes wrong – suddenly there's music and a biscuit-balancing competition! 
"This cafe is MINE!" Kitty shouts. But was it more fun before?
Find out more about the book:
Click here for a sneak preview of the book…
Mine! recipe for Gooey Fudge Bites
Q&A about the writing of Mine!
The Great Teapot Challenge
Find out more about illustrator Laura Hughes
Reviews and Quotes about Mine!