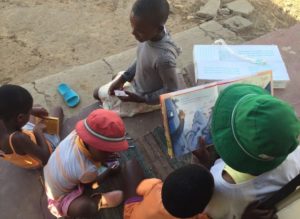 Interested in helping to build a library for Lepholisa Primary School in Lesotho?
This idea started when I gave my stepdaughter, Maggie Shiflett, the picture book WHEREVER YOU GO by Pat Zietlow Miller as a graduation gift. The little book has joined Maggie on her travels as a Peace Corps volunteer to teach English in an African school. It found a fascinated audience in Lesotho (a landlocked country in South Africa). A boy visited Maggie (see photo above) and asked her some questions about it :
"Madam, what is these?" (pointing to the boats, trains, and oceans in the illustrations);
"Madam, how do the animals know how to drive?" (pointing to the animals driving the cars in the book).
Maggie suggested that a book drive would offer her students the opportunity to foster creative thinking. One of her goals is to give the children a space to explore artistic expression. A story is a wonderful thing.
If you are interested in making a contribution, please consider:
Donating a picture book. The pupils (Grade 1 – 7) are learning English as a foreign language.
Donating towards the cost of posting the books to Africa. Even $1 helps.
Dropping me a line and I can provide further details: [email protected]/