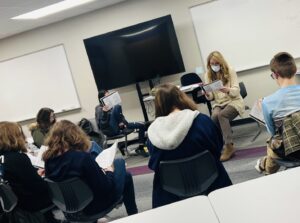 I was honored to be part of a special event last month: Write On, Door County hosted its first Young Writers' Conference in Sturgeon Bay, Wisconsin. Attendees came from several States to join in the fun. How I'd love to have had that opportunity when I was a teenager.
Alongside a talented and inspiring faculty, I taught classes to middle school students about discovering story and creating memorable characters. Waiting for the first group to settle before we started, I asked one of the students whether she had plans for the upcoming Spring Break. The girl looked me in the eye, responding passionately, "This is what I choose to do with my Spring Break. I want to write." Her answer summed up the enthusiasm for this event from the outset to the lively student open mic at the end.
The selection of workshop options was impressive: from poetry to songwriting to learning about freelance writing and much more. I did not meet the whole faculty but those that I spoke to were exceptional and, after the isolation of the lockdown, proved to be a balm for creative minds. Long may this wonderful event continue. Huge thanks to the organizers, especially Jerod Santek, Write On, Door County's Founder and Creative Director.